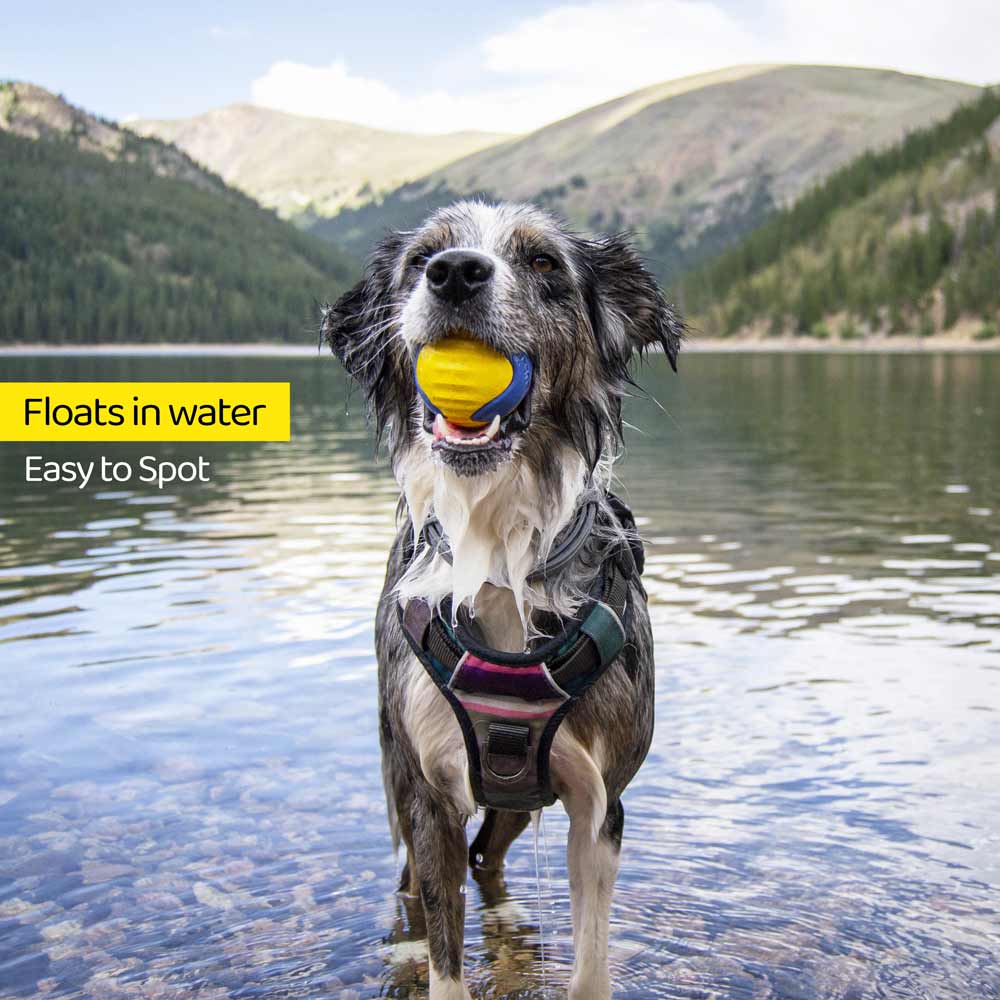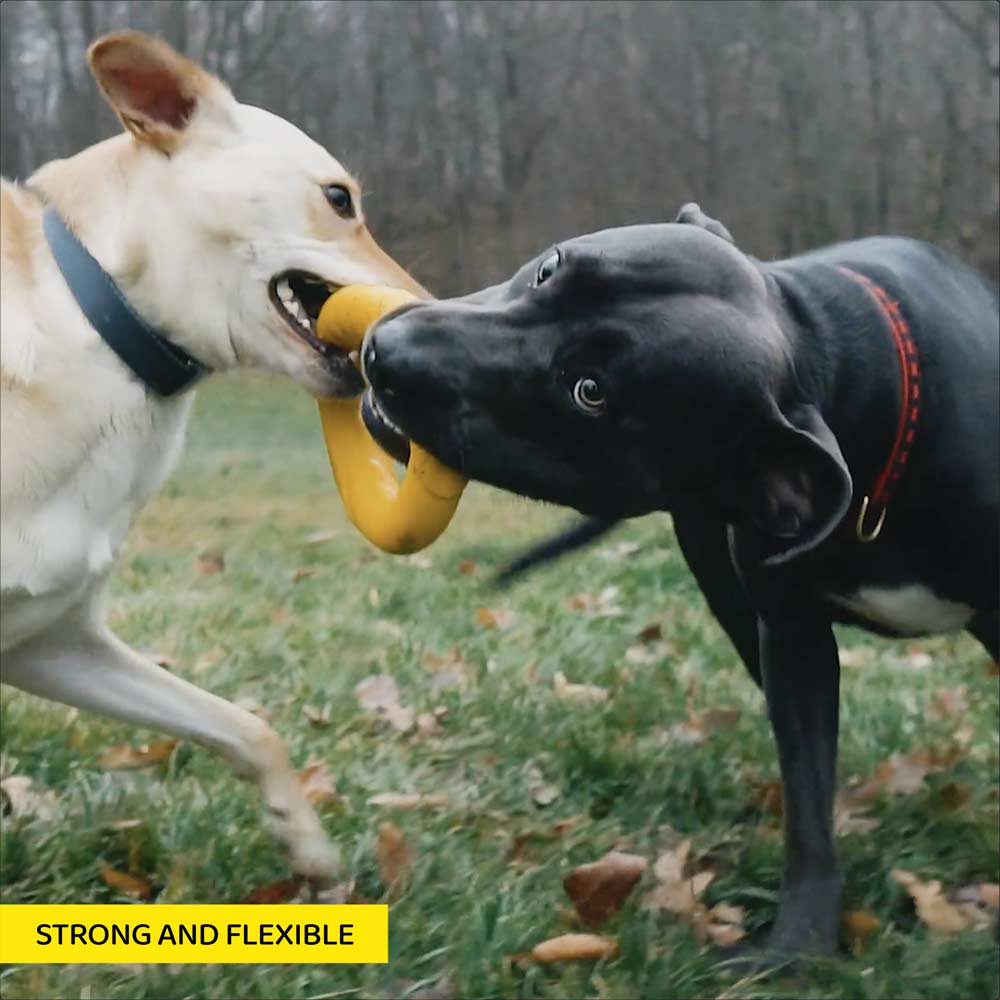 Power Duo - Tug Ring and Fetch Ball (Dog Toy Set)
In stock
If your pup breaks both pieces (ring and ball), you're entitled to a full refund or replacement.
Fetch Toys Built for Rough Play!
Meet your dog's go-to for heavy chewing, fetching, and serious tugging fun. This ball-and-ring pack is made from non-toxic 100% natural rubber tough enough for the strongest pups. It's also flexible, easy to spot and retrieve, and smells like vanilla cupcakes (shouldn't playtime be sweet?). Last but not least, the ball floats! From your backyard to the beach, snow, and beyond, this power couple is here for a whole lotta joy.


What's Fun?
Ring - 6.5"  |  Ball - 2.5" 
For medium to large-size dogs (35 - 75 lbs).
Supervised Play. No toy is indestructible. Always supervise your pet when playing with toys.
Ring Dog Toy: 
● Super-tough and flexible, this rubber ring won't crumble into pieces
● Ideal toy for intense chewing sessions or tug-of-war games
● Durable for toss and fetch 
● Try rolling the ring on grass or dirt for a thrilling game of chase
_________________________
Dog fetch Ball: 
● Designed for fetch lovers
● Made extra durable for tough chewers
● Compatible with standard ball launchers
● The blue and yellow color contrast makes it easier to see in the water, on grass, and in the snow
Fetch Dog Toy Set for Power Chewers
BULLTUG's Power Duo Toy Pack is an innovative 2-in-1 dog toy set designed for medium to large-sized dogs that love an energetic game of fetch, but also tend to be power chewers. This durable rubber dog toy is a textured, heavy-duty tug ring and ball that was market tested by the strength of K-9 German Shepherds, Malinois and Pitbulls — withstanding their most energetic chewing sessions and tug-of-war battles. Yet, it's soft enough to prevent damage to your dog's teeth and gums.
Ring Dog Toy That Won't Crumble Into Pieces
Our yellow ring is the perfect toy for the toughest of pups, featuring a nearly-indestructible resistance for rough play and extreme chewing. It's made from a special rubber compound that is so tough, it won't crumble into bits and pieces.
Ideal Dog Fetch Ball for Outdoor Games
The ball floats in water and has a non-slip surface for added safety and control. The dog ball is blue and yellow, which is a combination of colors that is friendly to canine color perception. This increases their visibility of the toy in water, grass, or snow, and adding hours to their playtime.
Non-Toxic and Safe Natural Rubber 
The Power Duo Toy Pack is made with safe, non-toxic natural rubber compounds from the most reputable factory in Vietnam. Both the tug ring and ball are odor-resistant from the dog's saliva.
Money-Back Guarantee

The Power Duo is built to be next-level durable—but if it's still no match for your super-chewer,
no problem. Just reach out to receive a full refund or replacement if your pup breaks both pieces (ring and ball).
Great tug and ball
Great tug and ball, Pit Bull approved he loves it.
The only toy my dog can't destroy
After a long, tough tug-of-war session with the dog, the ring looks practically brand new. It's also scented like vanilla, which is quite pleasant and doesn't reek like chemical rubber
Toughest dog toy I've bought
This rubber ring is extremely tough. My 70 pound GSD loves to tug and chew on it, and it's still going strong after months of use.
Still holding after 4 months with my super chewer Australian Shepherd and American Bully(XL)
Bought this 4 months ago for my 4 yr old Australian Shepherd(Standard,58lbs). She's chewed up every "indestructible" dog toy out there within 5-10 minutes. She even chews up her lacrosse balls while playing fetch. As a working class Aussie she has more energy than the show class and needs to be constantly busy with something. This toy has held up to her sharp teeth better than any other ring(including the Kong ring) I've bought her. I can even leave it out in the living room while I cook to distract her while she lies by my feet. She hasn't even made a dent in it yet and she looks so satisfied to have it rub up on her gums. Her brother, 4 year old American Bully (XL,99lbs), also loves it. They play tug with this ring as well and it hasn't torn. It stretches enough for them to be happy with it! He also loves to chase it when I roll it on the ground. Here are some highlights about it:
* It's heavy (My dogs and I like that, some might not)
* Very sturdy
* When thrown to roll it doesn't wobble
* The shape hasn't changed(I've bought others that bend and warp)
* The yellow makes it very visible in tall grass
* It's thicker than I expected(I like that because it cuts my dog's gums less)
* If thrown improperly I can see how you could hurt a shoulder
* My dogs love seeing rings roll and bounce, this does both
* Doesn't fly like a frisbee if thrown like one
* Flexible enough to fit your dog's needs but not enough to tear
* Not a small ring. Slightly bigger than my hand
Power Duo - Tug Ring and Fetch Ball (Dog Toy Set)
Where is the Power Duo Manufactured?
In Vietnam
What material is the ring and ball made of?
It's made of 100% natural rubber. Not only are these toys the safest and most non-toxic for your dog, but they're also environmentally friendly and sustainable. Over any other material, natural rubber toys are the best choice for your pup's health and happiness.
Does The Ring and Ball Float?
The ring is made of solid, heavy-duty rubber and it will not float. In contrast, the ball is designed to float.
How Does Your Life Replacement Guarantee Work?
Our lifetime replacement policy guarantees your satisfaction with your purchase. If your pup breaks both the ring and ball at any time during the life of the product, you are entitled to a full refund or replacement.

Just reach out to our customer service team at hello@bulltug.com and we'll take care of you.
indoors or outdoors
Bring on the rough play!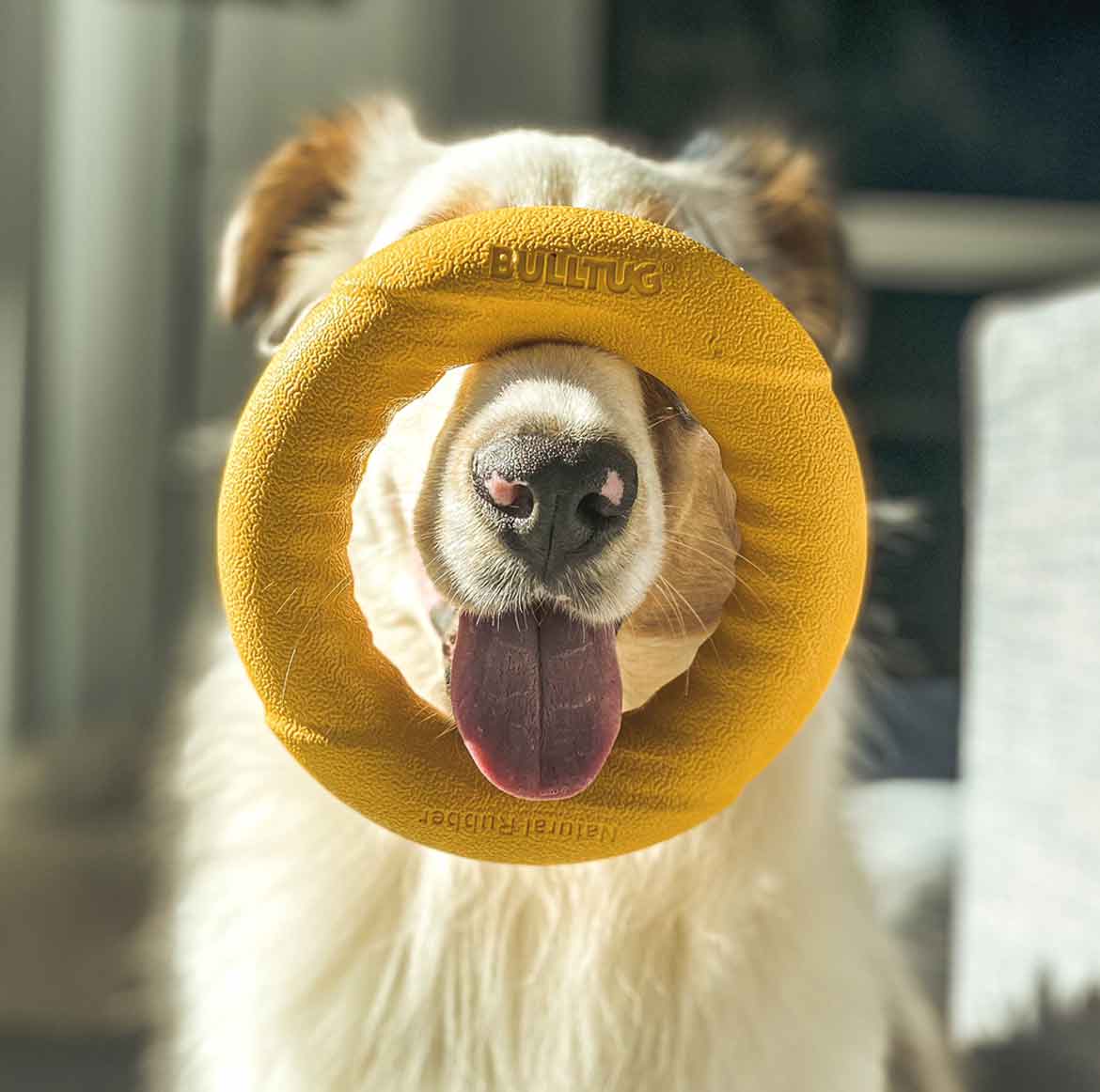 Let customers speak for us