2-In-1 | Octopus Dog Toy
Tugtopus
Monsters | Dog Puzzle Toy
Hike N' Seek
2-in-1 | Snuggly Dog Toy
Moony & Woola
Trash Panda | Dog Puzzle Toy
Trash N' Seek
Ring Dog Toy + Fetch Ball (Set)
Power Duo
dog toys designed
Bigger. Tougher. Cuter.
Level up playtime with insanely functional, extra durable, 2-in-1 toys. 
tug•fetch•roll
The Power Duo is the ultimate fetch toy set for power chewers. This toy combo includes a super-tough rubber ring and bouncy ball that are perfect for playing fetch, tug of war, and so much more.
chew ring and fetch ball
THE POWER COMBO
Take playtime to the next level with our ultra-durable 100% natural rubber toy set for power chewers. With yummy vanilla scent, and a money-back guarantee, it's a win-win combo!
Bring on the challenge - risk-free!
Dog toy bin + ultra-soft blanket
THE COZY HOME BUNDLE
This trendy toy bin keeps your home neat and stylish. Soft texture and a neutral light grey color to fit any decor
Dog toy bin + ultra-soft blanket
THE COZY HOME BUNDLE
Give your pup a royal treatment with this soft and snuggly blanket. Wrap them up in its luxurious fabric and they'll feel like the king or queen of the castle.
"Moony is not your average, everyday dog toy. It's my dog's best friend and security plushie."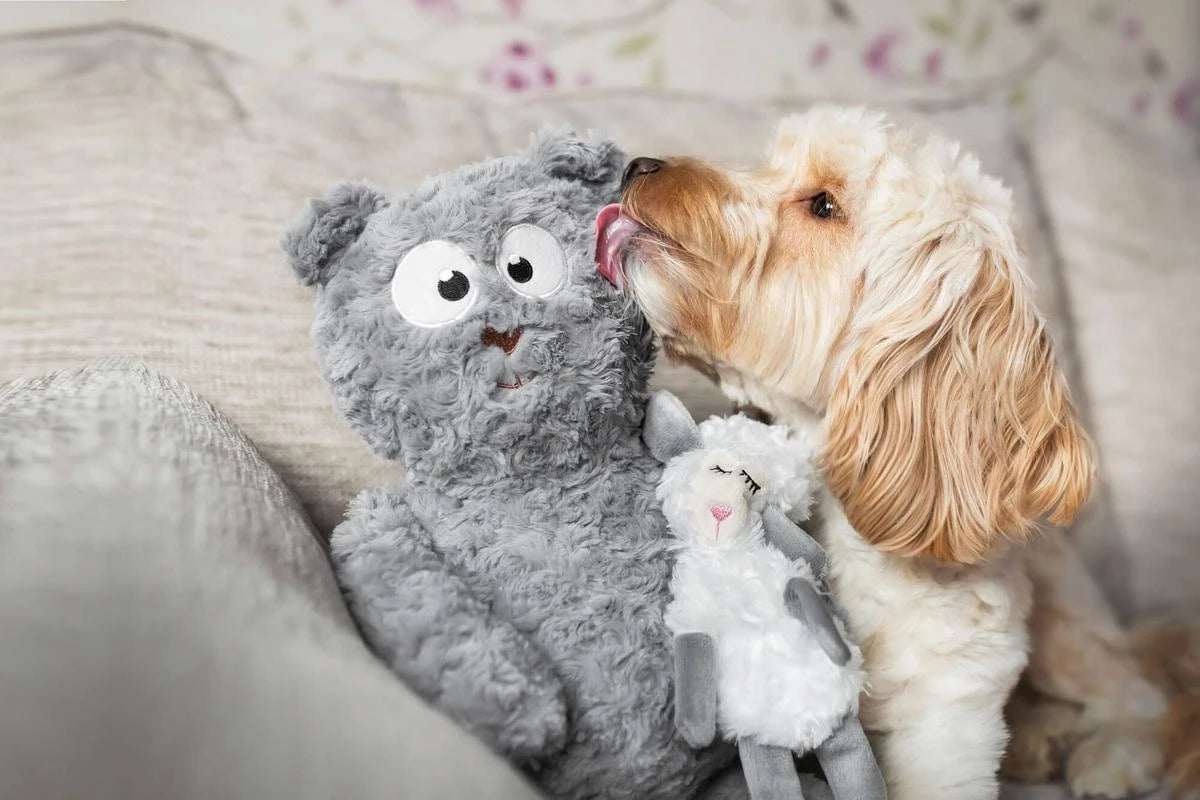 For gentle chewers
Moony & Woola
Moony is a charming, soft teddy bear with fluffy fur. Woola is an unstuffed baby lamb that makes squeaky and crinkly sounds.
These lovable new friends are perfect for snuggling.
toys to keep dogs busy
Hide N Seek Toys
dogster magazine 2021 | 2022
Editors' Choice Awards
We're excited to offer award winning dog toys that your dog will love!
A WORD FROM OUR CUSTOMERS
Happy Pawrents ♡ Happier Pups!
Kassidy & Lincoln
"You can tell that both the ball and the ring are well made and very durable!
The ball is actually my pups new favorite!"
Bobby & Mae
"We love the plushness and size of Moony! Bigger than we expected and super soft and cozy! Moony and Woola are great new cuddle partners! 🐶"
Lana & Beukeboom
"My dog went nuts when I gave it to him. He loves playing with the coon balls, and taking them out of the "trash bag" The quality of the toy is real nice, great thick material."
Jeannette & Zion
"We recently got a rescue puppy, and this toy has provided endless play! It is one of Zion's favorites and it always finds its way wherever we go... Car, pool or cuddle we love this Octopus friend ♥️"
Tabitha & Kristoff
"Oh my gosh! I'm in love with these lazy birds! It's even bigger than I expected it to be! So super sturdy!"
meet our instagramable friends and followers
the gram 📷