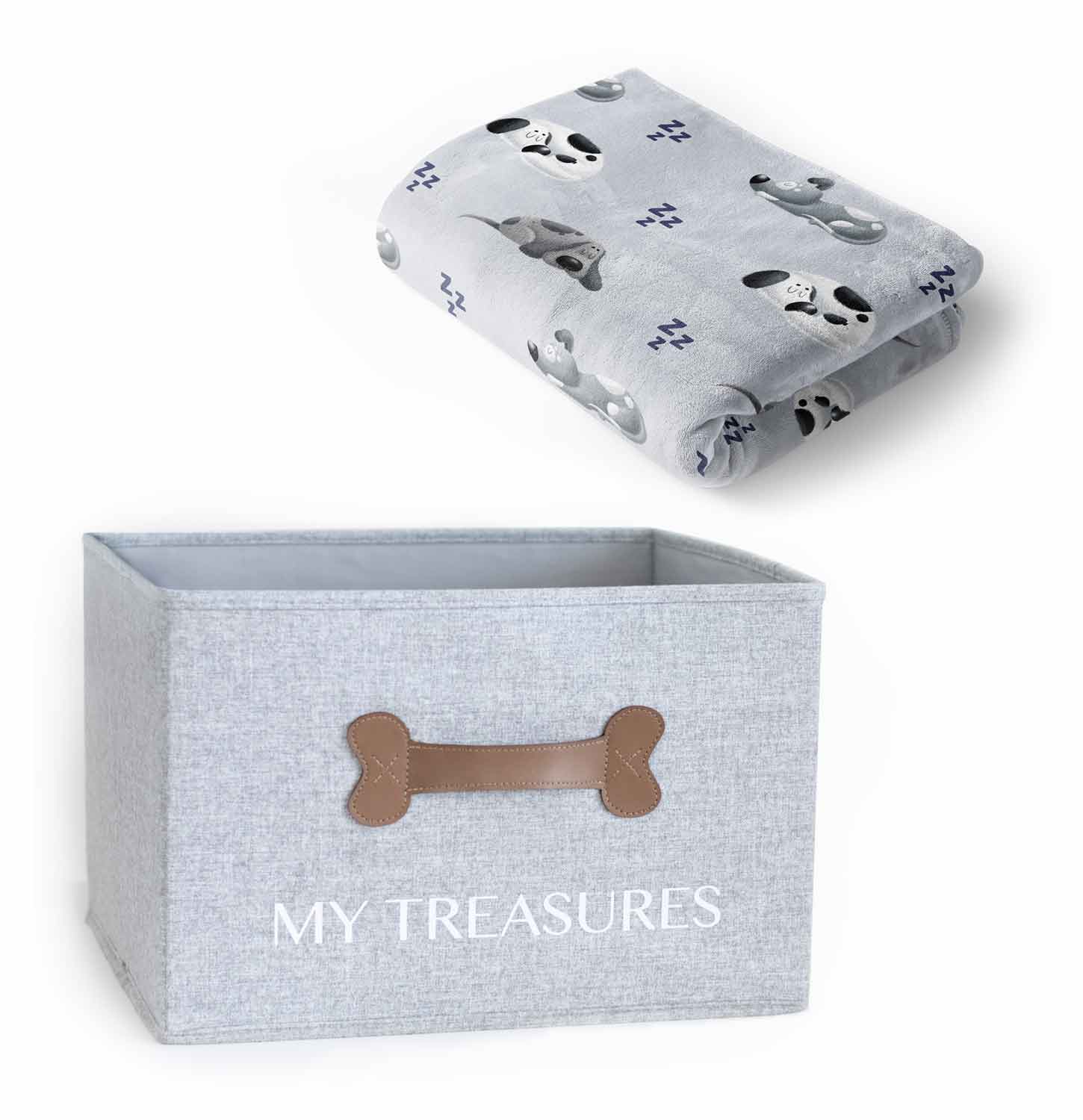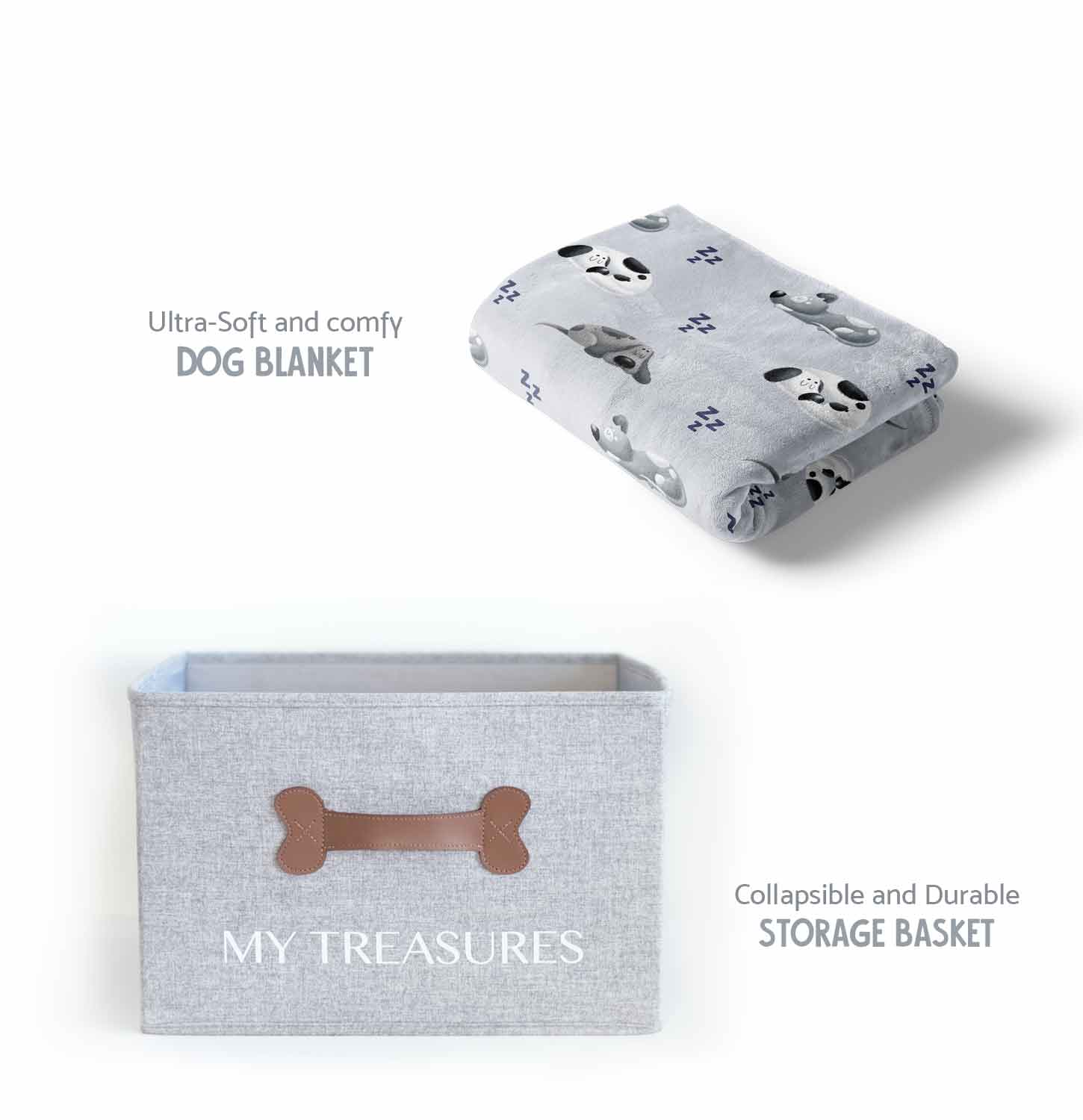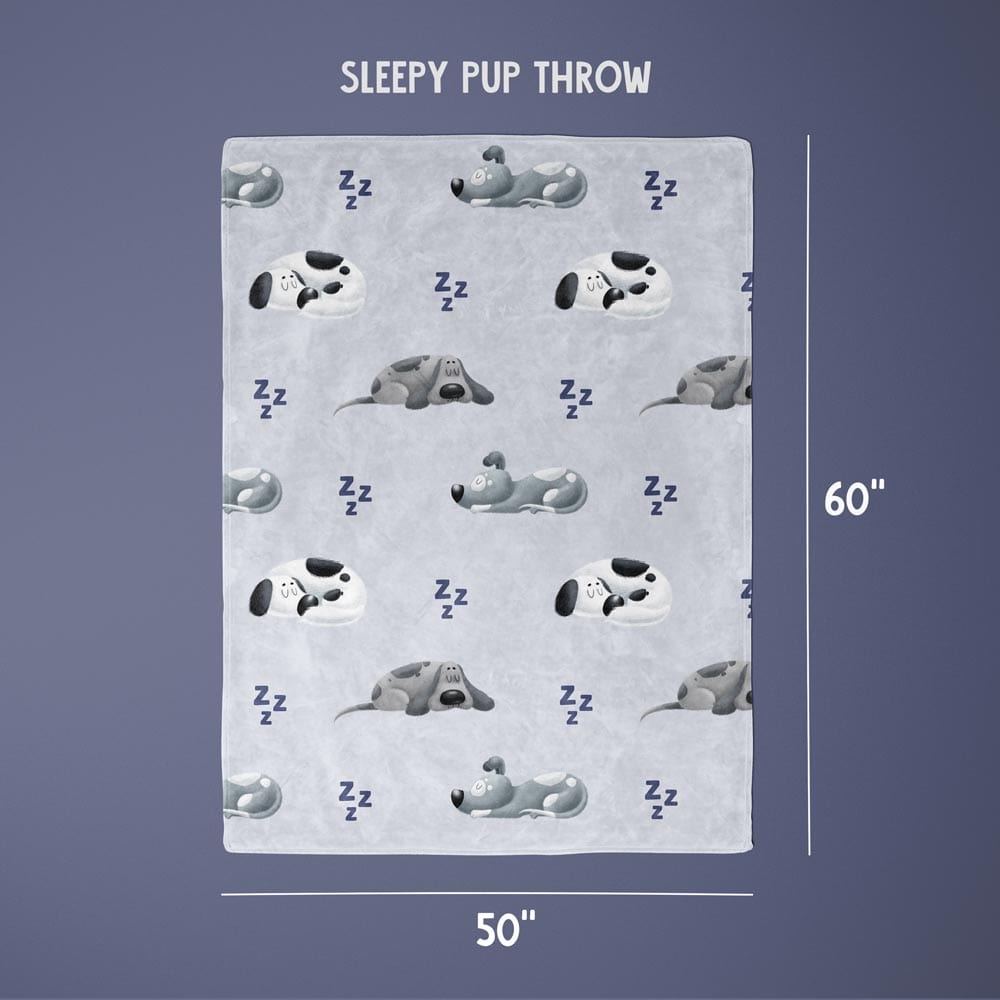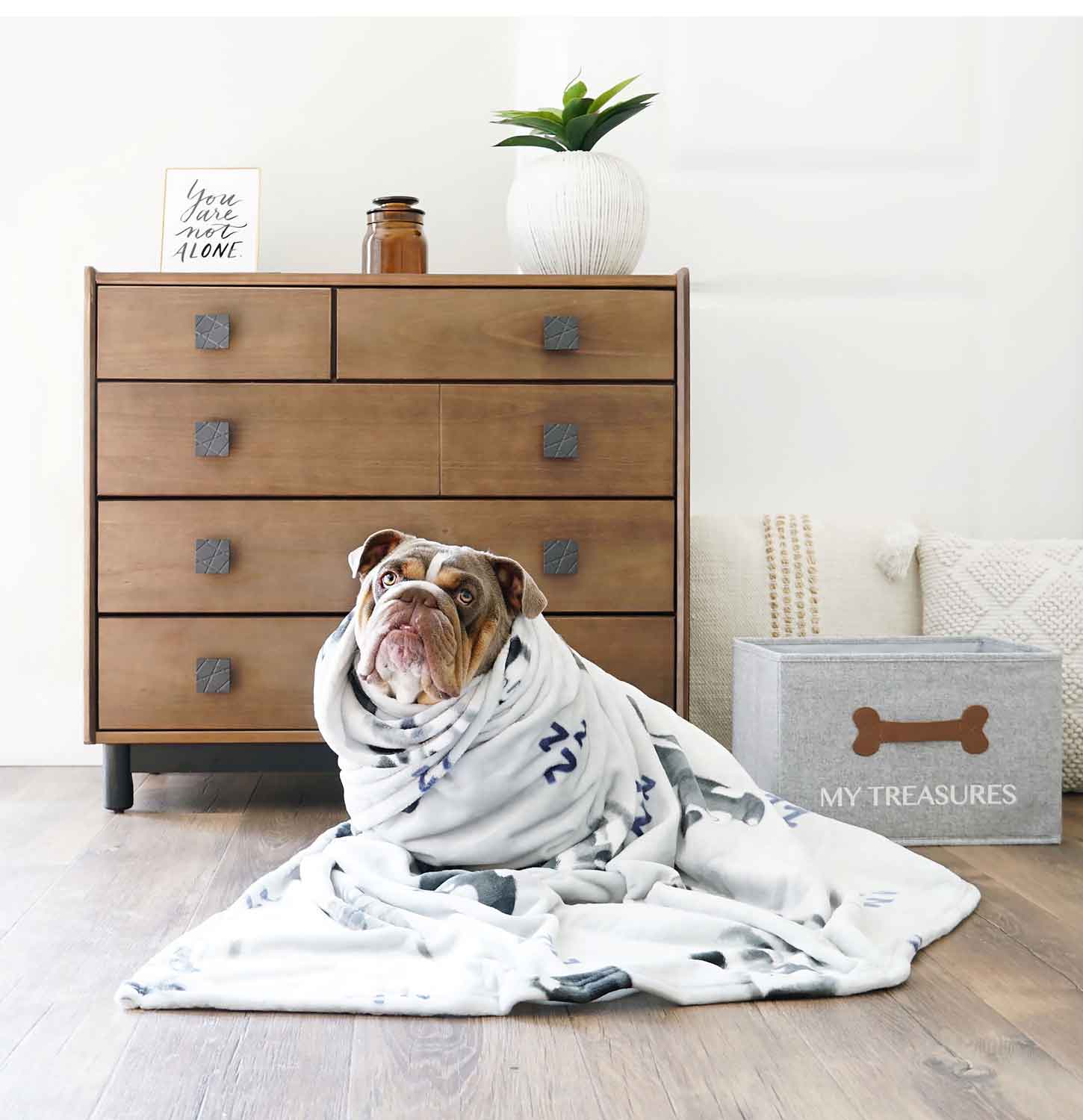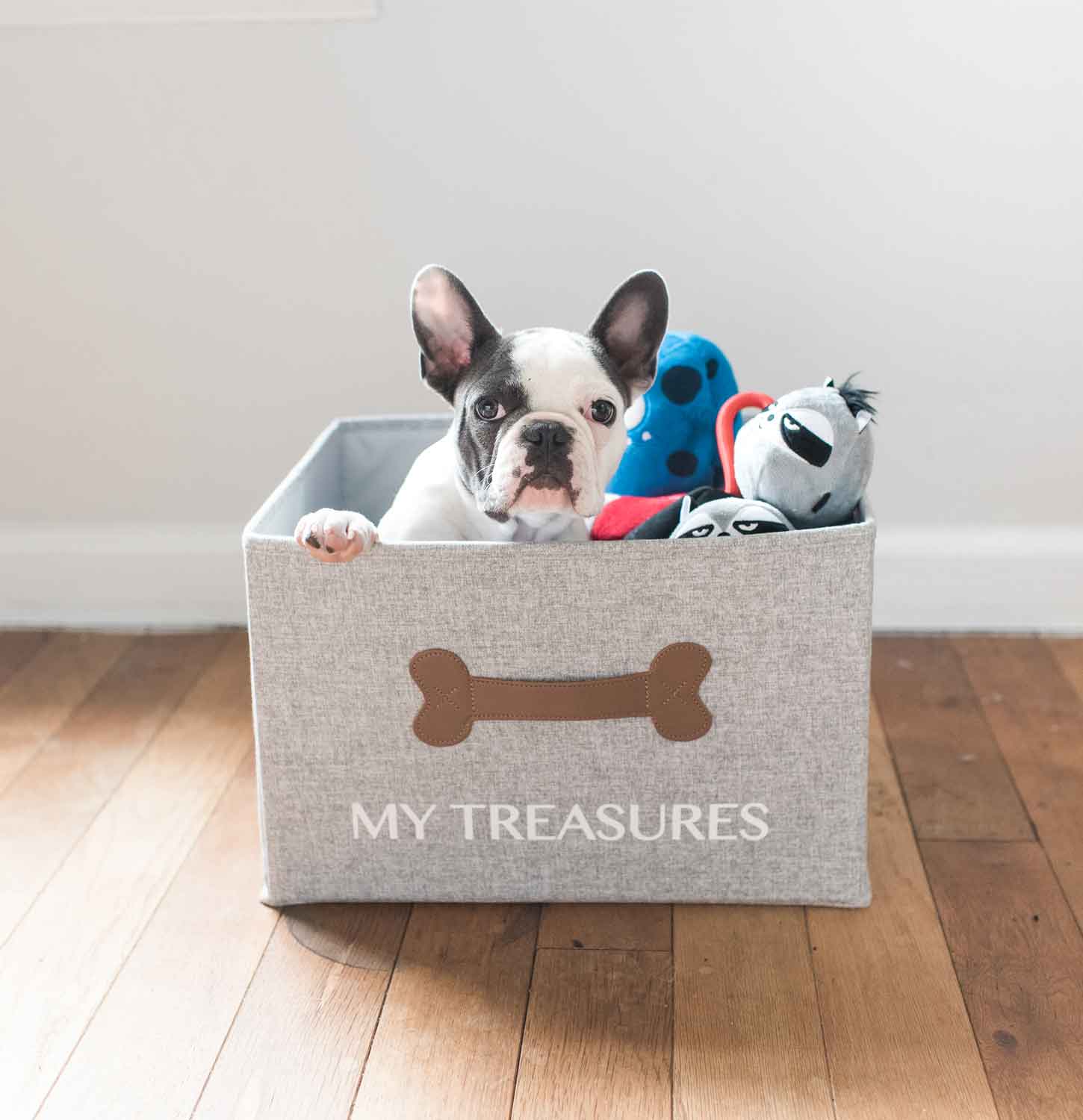 Dog Toy Bin and Blanket Set
Storage Bin and Blanket for Dogs
Fact: Pawrents' homes can be organized, too. Trade "toys in every room" for "toys out of sight" with this chic, neutral bin that blends into décor. Store it flat when not in use or fill it to the brim—like with the velvety, luxurious blanket that comes inside. Free your favorite cozy throw from fur as your four-legged friend cuddles up in their own.
 Size 
Toy Bin | 15" L x 12" W x 10" H
Blanket | 60" x 50"
●This bin is firm and sturdy, but also folds flat
●Stylish, bone-shaped leather handles on both sides
●"My treasures" print on one side
●Perfect for storing your dog's toys, collars, dry treats, etc.
●The trendy storage basket is soft and light gray, fitting any decor
●The soft throw is perfect for medium to large breeds
Pawesome!
We absolutely love the cozy home bundle. The blanket it's so soft my dog Bruno loves it. It's his new favorite blanket. The basket is just perfect and very spacious. We were able to fit all his toys!
Cute and functional
When I ordered this set, it felt like a bit of a splurge for the sake of a nice doggie gift. But it's actually been so useful. The blanket is larger than most other dog blankets and it does a great job of protecting larger furniture pieces from the majority of hair and tracked-in dirt. The bin is a good size – a touch larger than I maybe would have chosen, but perfect for allowing my dog to pick out what she wants. In fact, she often gets so excited when a new visitor appears that she pours her energy into rooting energetically through her "treasures" for just the right toy to take out her excitement on in that moment. More than once this has ended with the bin tipped over in the commotion. But it's still holding up after months of this treatment, much better than I'd expect for a collapsible bin. Plus it looks cute with its little label and stylized handles. Very happy with this set.
Cute toy box for a dog
Arrived nicely packaged. The box is big enough to collect all the toys for my aussie. The blanket is a nice little addition, hopefully it will hold up after being washed.
Very nice set, soft blanket!
Very nice dog toy bin, very sturdy, great height for medium or larger size dogs, looks good in my great room! The blanket is so soft I've kept it on the couch.
Softest blanket ever
Received product exactly as the description. The blanket is so soft I want it for myself. My dog loves it and sleeps with it every night.
Perfect Gift for Dog Lovers
The Cozy Home Bundle
Storage Bin

This storage basket is perfect for a tidy house. The neutral color goes with any decor, and it's ideal for storing things like pup ropes, squeaky toys and balls.
"My Treasures" on one side
Modern grey color
Can be stored flat by unsnapping all sides

Ultra-Soft Blanket

Ideal for all seasons, this velvety-feel throw provides warmth and comfort with luxurious soothing softness. Cozy enough to keep your pup warm in the winter but light and breathable for summer months.