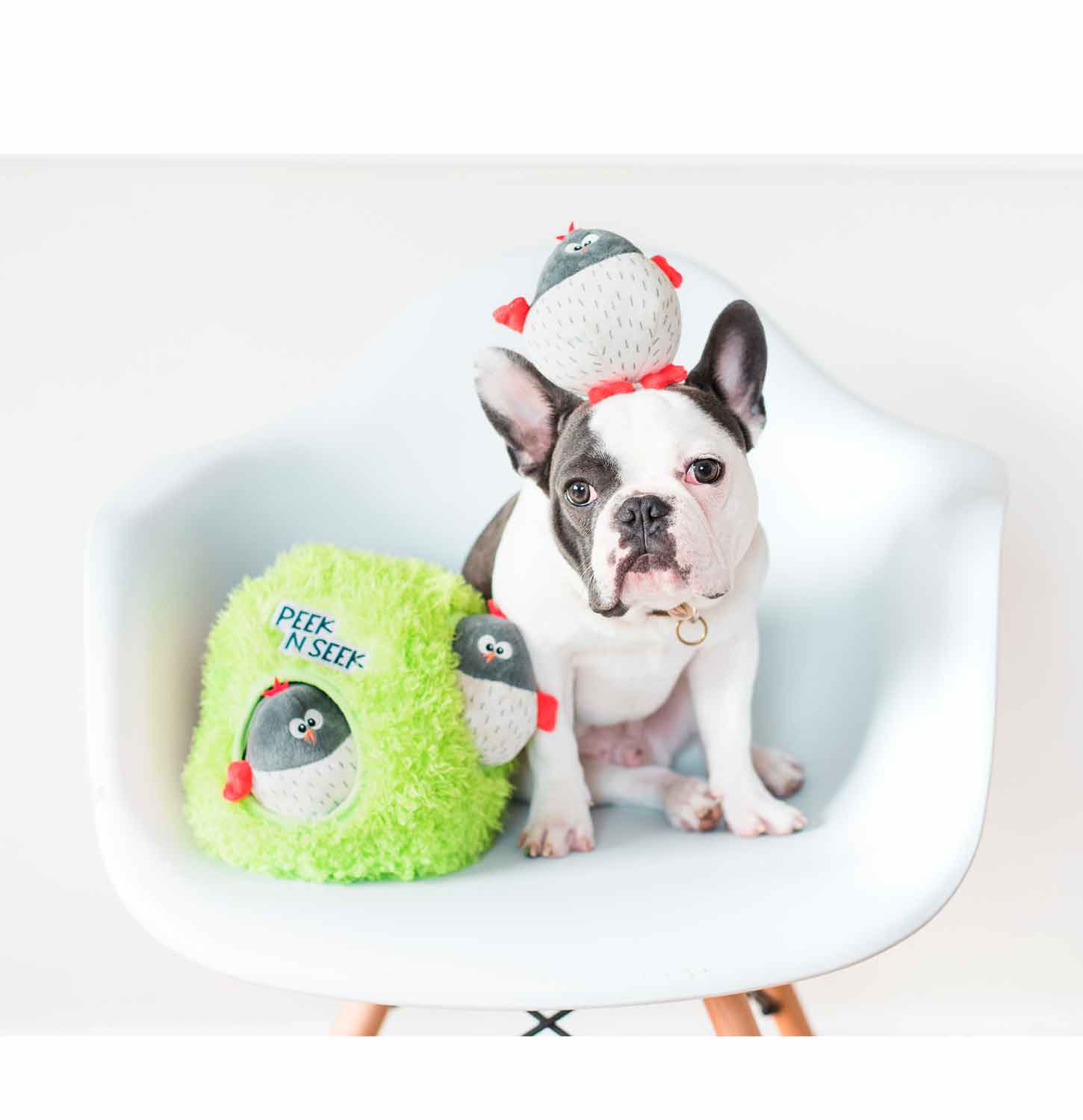 Peek N' Seek | Dog Puzzle Toy
Your Dog Will Go Nuts For These Birdies
This hide-and-seek game is the perfect way to mentally stimulate and tire out your pup. They'll have a blast sniffing out and retrieving the lazy birds hidden inside the plushy bush. Not to mention, it's a great way to bond with your furry friend.
What's Fun? 
Size: Bush - 6" x 6.5"  |  Birds - 4"
Recommended for puppies and all size dogs.

Supervised Play. No toy is indestructible. Always supervise your pet when playing with toys. 
● Interactive or solo play keeps dogs busy and engaged
● Puzzle challenge games promote mental stimulation
● Throw the lazy birds a game of fetch
● Squeaky and crinkly birds
● Rip open to reveal a fun surprise! One of the cute birds comes with a spiky ball hidden inside
Lots of Fun
Our mixed breed pup is always happy to see this toy come out. Loves to pull out the birds, then toss around the empty bush. Sometimes we stuff the bush with additional soft toys to make the fun last longer. So far, this toy has held up surprisingly well to our dog's aggressive play style. Highly recommend.
Love it!
I would note that my heavy chewer has put a hole in the green hiding part of the toy (not unexpected for him no matter the purchase) but the birds are holding up great and he loves them !!!
The Best Dog Toys
Absolutely the BEST!! Stella loves everything from Bulltug!! They are her favorite toys! Love Bulltug and they are the sweetest too! ⭐️⭐️⭐️⭐️⭐️⭐️⭐️⭐️⭐️⭐️
Lazy Bird Dog Toy
The Peek N' Seek is puzzle plush that offers a unique, interactive play experience with three overstuffed bird characters. Each bird has a squeaker and crinkly tail, and the round shape makes them bouncy and perfect for fetching.
Sturdy Design 
Our Hide and Seek toys are built to last, with stronger padding, reinforced stitching, and advanced puncture-proof squeakers. With its rugged construction and fun design, the Peek N' Seek  is sure to be a hit with your furry friend.
Squeaky and Crinkly Birds 
The Peek N' Seek features three overstuffed bird characters, featuring puncture-resistant squeakers and crinkle tails. Squeaky, crinkly and cuddly all at the same time, it offers hours of boredom-busting fun to dogs of all sizes.
Brain Games 
Hide N Seek dog toys are known to help puppies and dogs with mental stimulation, stress relief, and boredom. Our puzzle plush toy will keep your dog entertained for hours.
Large Built-in Squeaker
The Peek N' Seek is a one-of-a-kind toy that features a large 16-inch disc squeaker sturdly built at the bottom of the bag, making it more engaging and fun than any other toy on the market.
Rip N' Reveal Surprise
One of the three birds has a spiky dog ball hidden inside. Your pup will love running after and finding the surprise once they rip the durable, yet shreddable, outside fabric.
We know how hard it can be to leave the nest...
The home-made meals, the free laundry and that
FAST WIFI FOR TWEETING.
These lazy little birds got quite COMFY AND COZY, but at some point, even they have to spread their wings and fly!
These 3 HOMEBIRDIES just need a little push — or maybe A FEW STRONG TUGS — from your dog to get 'em out.