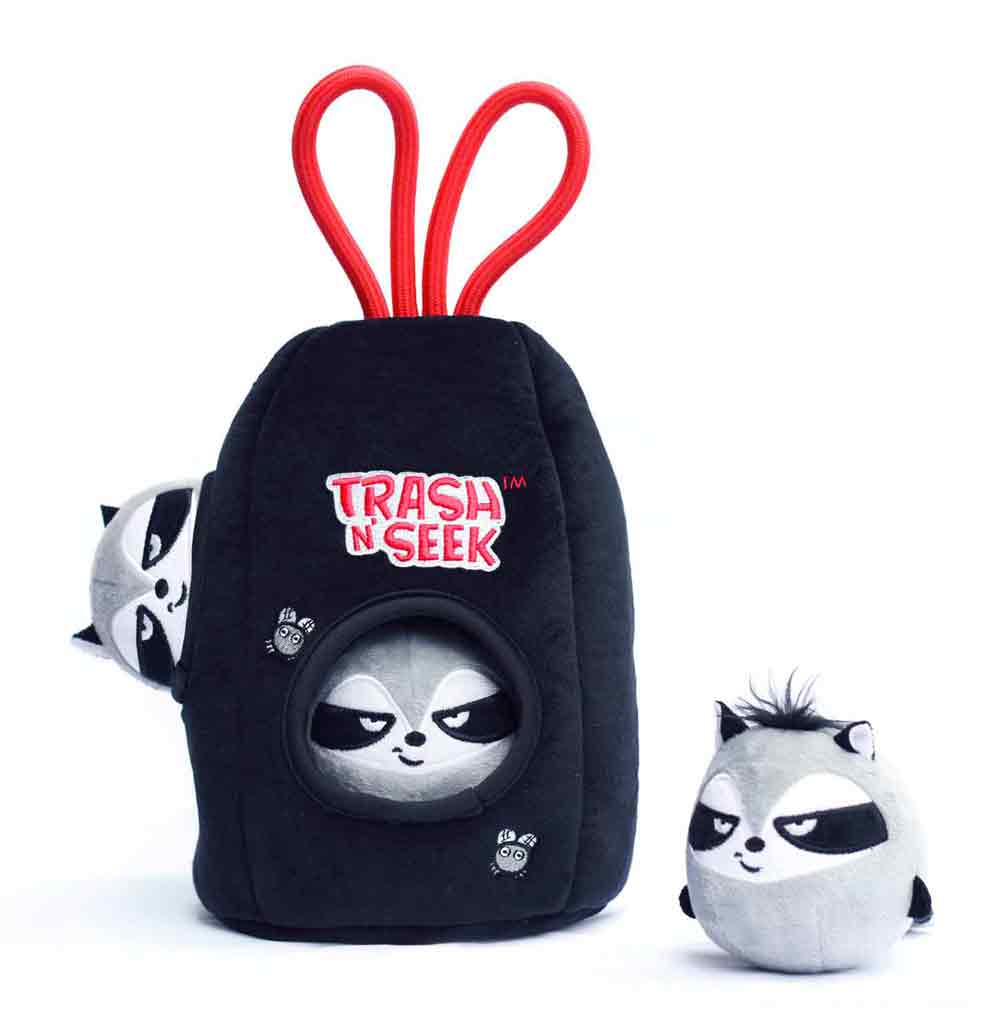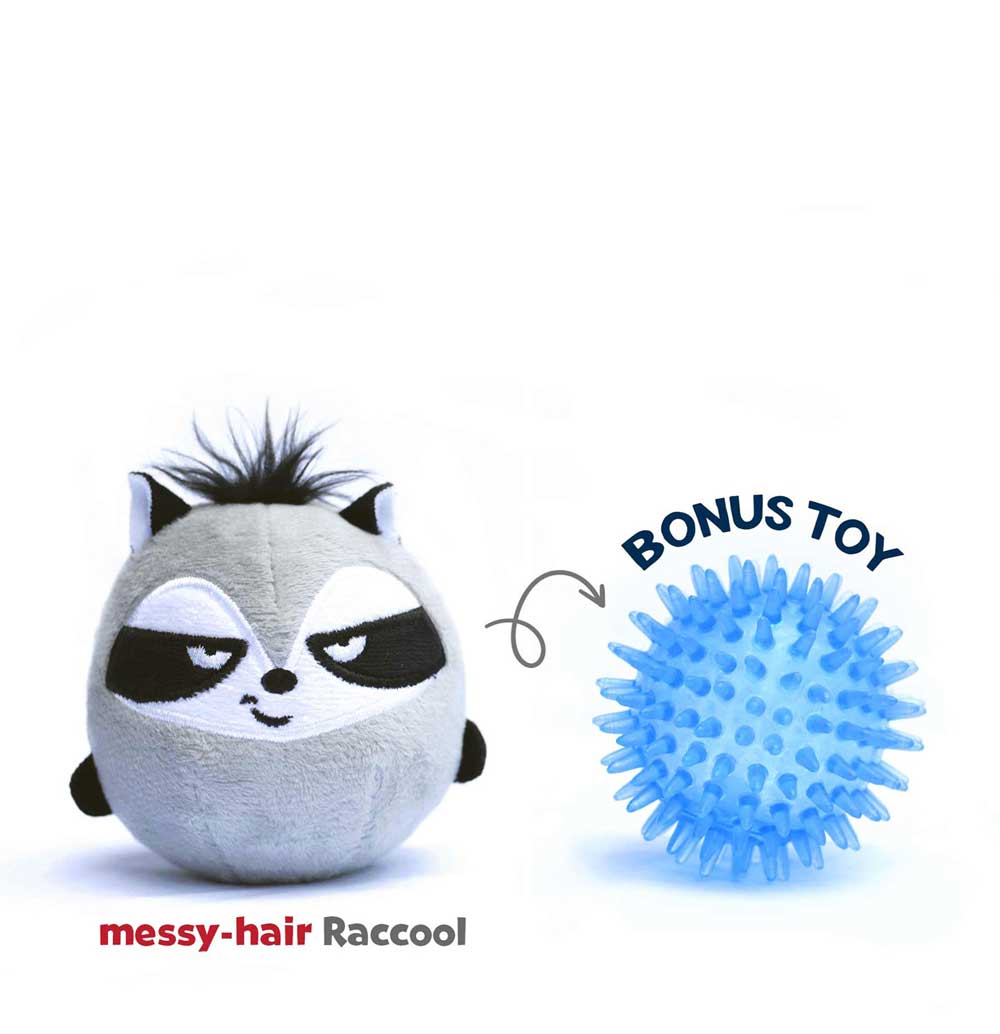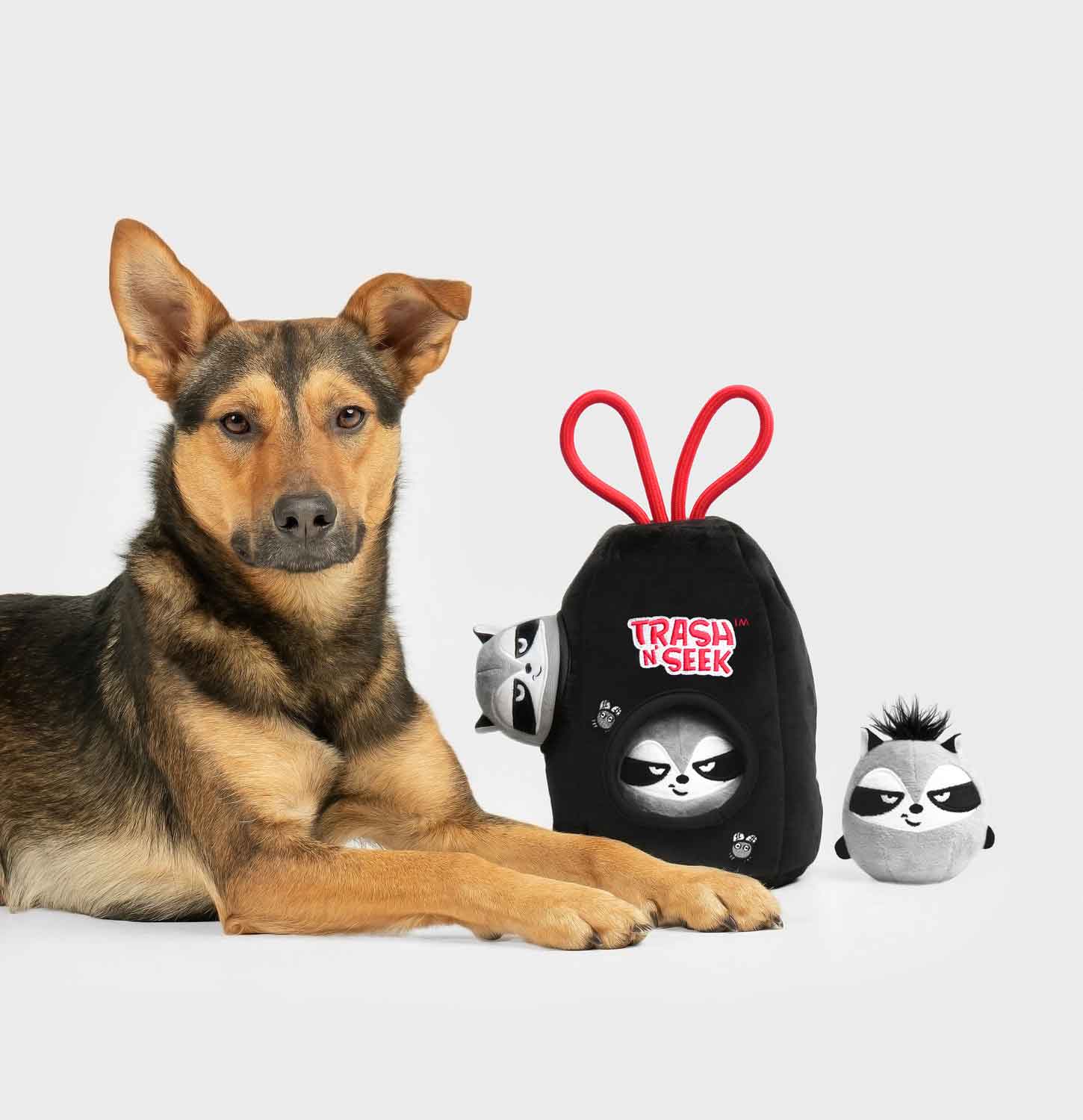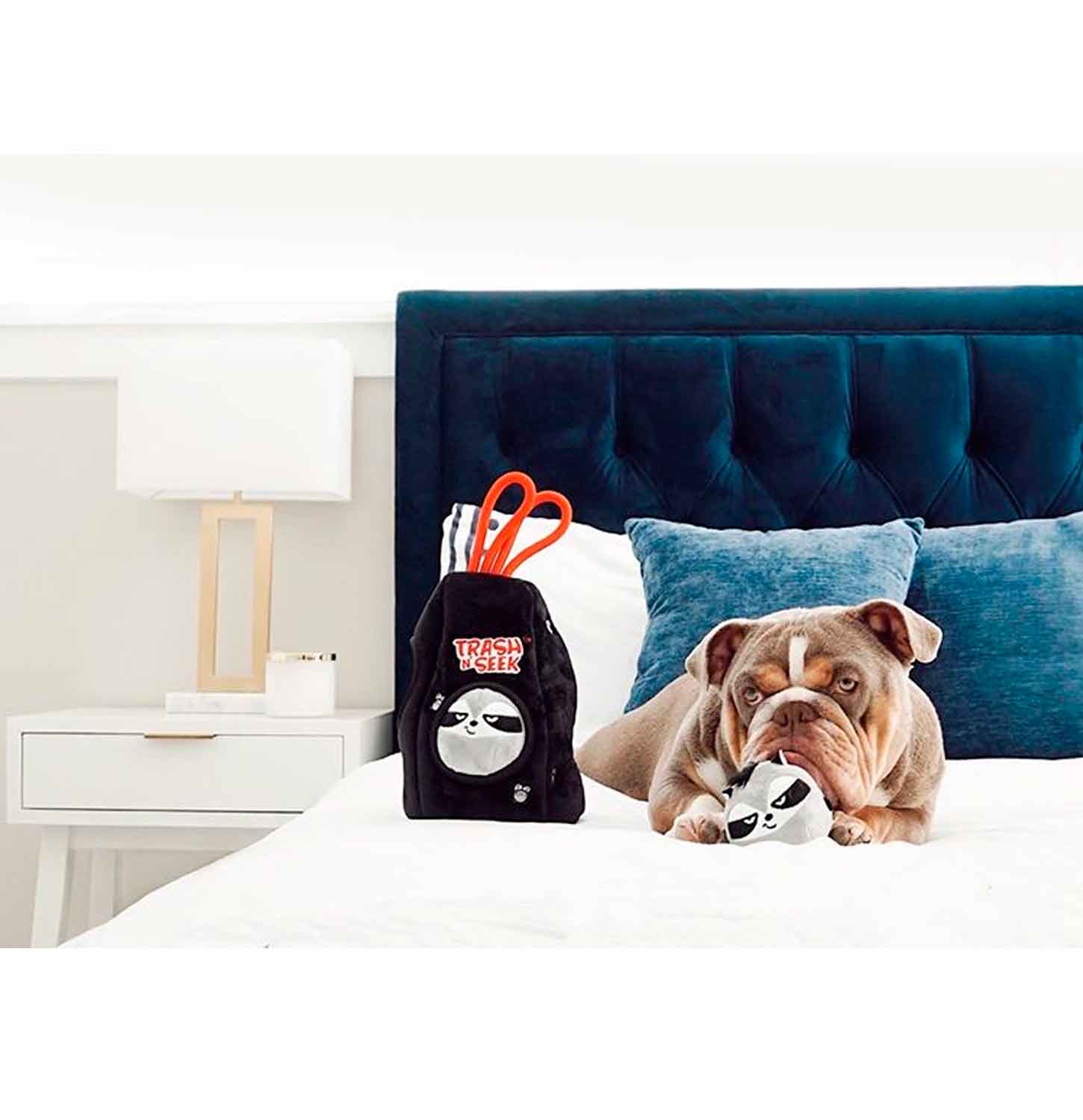 Trash N' Seek | Dog Puzzle Toy
The Playtime Puzzler
Want to keep your pup entertained? Give them a toy…inside a toy…inside a toy. Sturdy and durable yet fuzzy and soft, our oversized design houses three stuffed raccoons plus a bouncy ball hidden within the one with a 'do. Surprise and delight your dog with crinkles and squeaks, like from the giant built-in squeaker at the bottom of the trash bag. It's also ideal for tug-of-war and fetch—plus solo mental stimulation when you need a break from play, too (we all do!). 
What's Fun?
Size: Trash Bag - 12.5" x 6.5"  |  Raccoons - 4"
Recommended for puppies and all size dogs. 
Supervised Play. No toy is indestructible. Always supervise your pet when playing with toys.
● Sturdy and long-lasting design!
● Squeaky and crinkly raccoons
● Giant bottom squeaker for play-engagement 
● Puzzle games promote mental stimulation
● Rip and reveal to find a spiky ball hidden inside the messy-haired raccoon
My dog loves them!
My partner and I where looking for ages for cute looking raccoons toys! We live in London (UK) and the communications with the sellers were always easy and straightforward and the order was easy to make! The toy quality is truly AMAZING…the toy is soft at the touch but at the same time very sturdy and bite resistant! Is one of the best toys my dog has..I personally love the fact that eventually when my dog will brake and open the raccoons, one of them containers and extra little surprise inside.
Trash n Seek
It's been two days after receiving our package and my puppy is obsessed with this set. He's taking the whole set with him to bed! However two out of the three raccoons have ripped and now I had to order another set :(
Great Product!!!
Bought this for a friend's german shorthair pointer puppy (few months ago) and she absolutely LOVE it. Very nicely made and sturdy. She loves to tuck her nose through the red loops on top of the toy trash bag, not to mention there is a squeaker at the bottom of the bag and in the little racoons. Fun for the dog and the hooman watching.
Such a good purchase !!
My little guy absolutely loved this toy ! It's such a cool concept with the cutest little critters ! The quality is top notch & tough - I think this will last Ollie a long time .I was definitely surprised that it came with 3 raccoons ! Definitely got our moneys worth 10/10
Super fun
Our smaller pup loves this toy. He squeaks them. He runs to chase them and the bag. Very fun! Also sturdy, our GSD is very hard on toys and it has held up.
A Hide-N-Seek Dog Toy For All Play-Styles
Based on the Trash Panda theme, this hide-and-seek toy has been designed to appease all play styles: the Snugglers, the Tuggers, the Chewers and of course, the Trash-and-Seekers.
Quality Materials And Better Design
Our Hide and Seek toys are built to last, with stronger padding, reinforced stitching, and advanced puncture-proof squeakers. With its rugged construction and fun design, the Trash N' Seek is sure to be a hit with your furry friend.
Squeaky and Crinkly Raccoons
The Trash N' Seek is an interactive toy that offers a unique play-engagement experience. It has three overstuffed raccoon characters, featuring puncture-resistant squeakers and crinkly tails. Squeaky, crinkly and cuddly all at the same time, it offers hours of boredom-busting fun to dogs of all sizes.
Best For Mental Stimulation
Interactive puzzle toys have been shown to increase mental stimulation for puppies and dogs, decrease stress and anxiety, and provide boredom relief. Our puzzle plush toy will keep your dog entertained for hours.
Giant Built-in Squeaker
The Trash N' Seek is the only toy of its kind that features a large 16-inch disc squeaker sturdly built at the bottom of the bag, making it more engaging and fun.
Bonus Toy Hidden inside
For added excitement, the messy-haired raccoon has a squeaky-spiky ball hidden inside.
More features
The more - the merrier!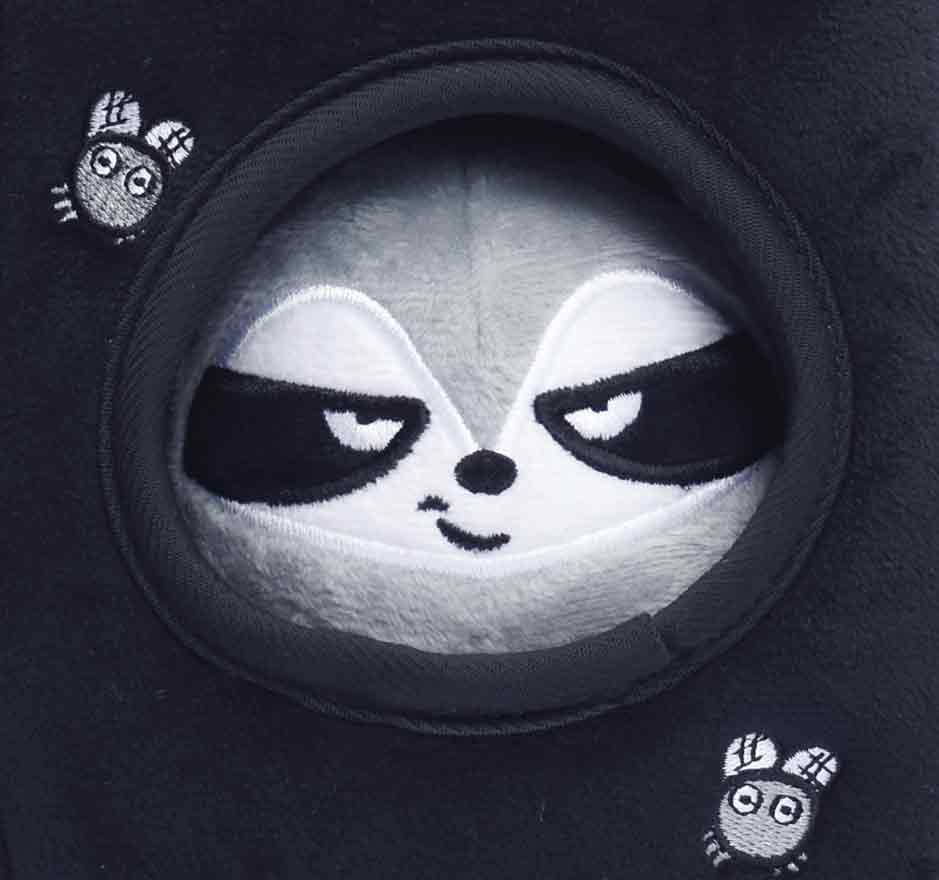 MORE CHALLENGING
The round design makes it more difficult to dig them out, keeping your dog busy for hours.
FETCH FUN
Throw the bouncy raccoons for a fun and gratifying game of fetch.
MASSIVE SQUEAKER
The only toy that features a big disc-squeaker that will peak your pup's playfulness.
IT WAS A STORMY NIGHT
ON THE DOG-EAT-DOG STREETS OF NEW YORK CITY.
A trio of raccoons were looking to wet their whistles and cure their munchies, so they ducked past a few flies into the nearest dive they could find. JACKPOT. Cheesecakes, chutneys, chimichurris and an oh-so delectable couscous. It was an all-you-can-eat-buffet and they chomped all they could.
What happened next? Ugh. Food coma.
NOW THE PLUMP RACCOONS ARE STUCK AND ONLY YOUR DOG CAN GET 'EM OUT.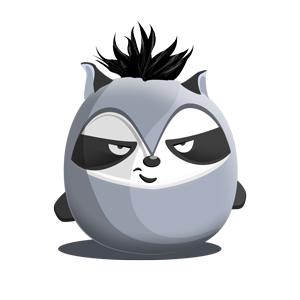 HE'S ALL ABOUT PERSONALITY AND SQUEAKY SOUNDS.
The cutest troublemaker
You can bet this little guy is up to no good. He's no role-model material for any young pup out there. Yet, he's sure to become your dog's favorite plush toy.