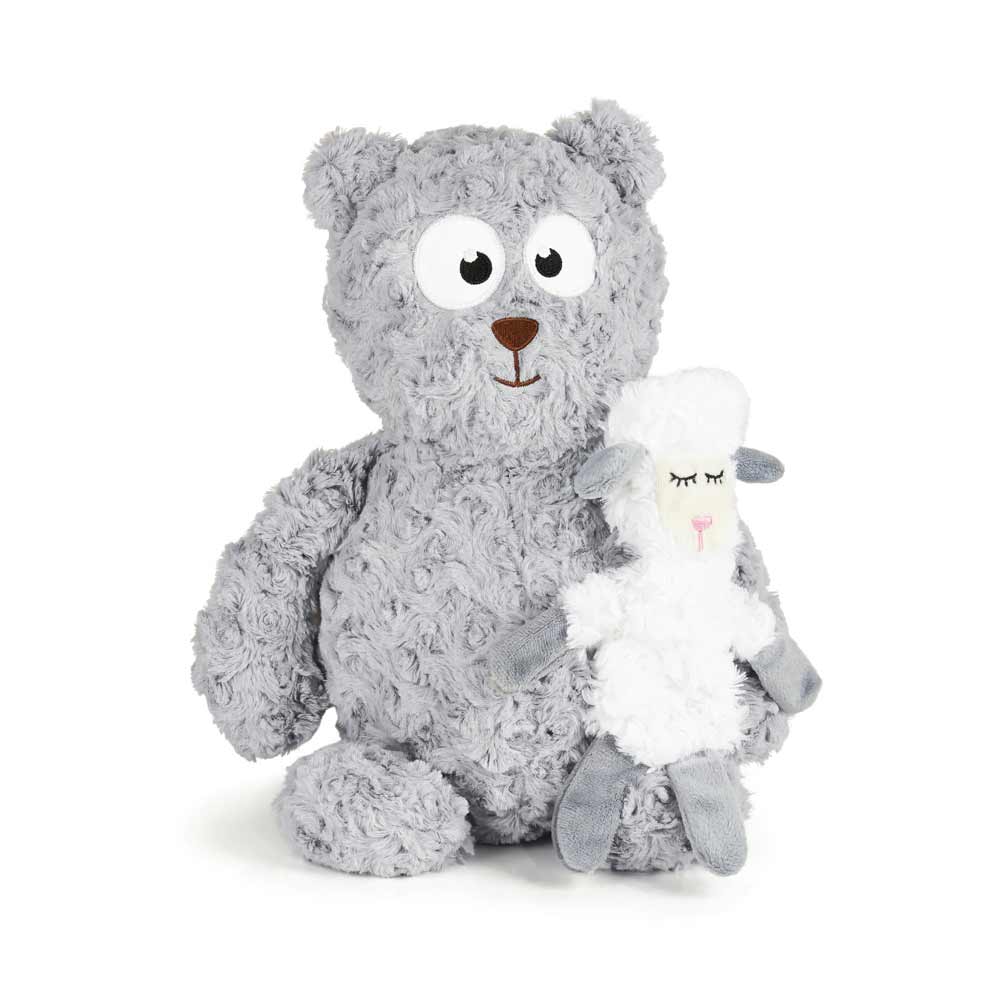 Moony & Woola | Snuggly Dog Toy
If a Toy Were a Hug…
Because pups love cuddles, too. Provide comfort, ease, and naptime snuggles with this two-in-one favorite for gentle chewers. Moony the Bear is your pup's plushy "go with me everywhere" pal and unstuffed Woola the Lamb offers squeaky, crinkly R&R. Help to boost bliss and soothe dogs' anxiety with the incredibly soft (and dare we say, very cute) duo they deserve. 
Recommended for gentle chewers. 
What's Fun?
Size: Moony the bear -  16'' tall  |  Woola the lamb - 10'' tall 
Supervised Play. No toy is indestructible. Always supervise your pet when playing with toys.
● Moony is a comforting, warm companion for your dog
● Woola is a sweet lamb and your dog's new favorite unstuffed squeaky toy
● Moony and Woola team up to provide comfort, stress relief, and entertainment
Fezzis BFF Woola
My pup's favorite toy has to be Woola. It's one of the first toys she sees and picks up in the morning to greet me. Poor Woola has been tugged in a game of tug o war and through all that the toy has survived. And squeaked annoyingly. She just loves how Woola crinkles and it's a MUST favorite toy for her. Woola is her Bestie. She's been through it all. Every pup needs a Moony&Woola toy to be their Bestie.
Bunny's Cherished Toy
I already had the pleasure of experiencing the joy that the Mooney and Woola dog toy brings, so when I found out I would be starting a new puppy at Southeastern Guide Dogs, I knew I had to get one for her too. As expected, Bunny, the puppy I am starting, instantly fell in love with Woola, making it her cherished childhood favorite toy.
I was incredibly impressed with the exceptional service provided by Bulltug. When I reached out to them to explain my situation of starting a puppy and only having her for a few weeks, they went above and beyond. They not only shipped the toy the same day but ensured it arrived the very next day. The promptness and efficiency of their customer service were truly remarkable.
In addition, when I asked for an extra Woola, Bulltug was incredibly generous and included it with my order. This level of thoughtfulness and consideration further solidified my trust and appreciation for their brand.
The Mooney and Woola dog toy is not just an ordinary toy. It holds a special place in Bunny's heart and has become an essential part of her journey as a guide puppy in training. As she transitioned to her official puppy raisers, I made sure to pack a care bag for her, including her beloved Mooney and Woola. It brings me comfort knowing that this cherished toy will always be with her, serving as a constant companion and source of comfort throughout her journey to become a superhero pup.
What sets Bulltug apart is their genuine care and concern for your pups. They follow up with you after you've placed your order, making you feel like you're connecting with a long-time best friend. Their dedication to ensuring the happiness and well-being of your furry companion is evident in every interaction. The Woola toy will become my favorite staple toy to give to every dog I have the pleasure of raising.
Moki loves his Moony's
He has the original which he carries with him and sleeps with most nights or when he's left by himself a couple hours, but he also has a backup Moony, so now he has 2!
Cute & snuggley
I purchased Moony for a friend who recently adopted a rescue. I think it's safe to say she loves it 💗 I can't really rate the durability of the toy since she's not much of a chewer.
I have a large labradoodle with anxiety and it's his favorite baby.
It's my dog's favorite toy but I have to reattach his limbs regularly. I have a large labradoodle.
(Stuffed and Unstuffed Soft Plush Toys)
Moony is the cutest, cuddliest, most huggable teddy bear toy for dogs. It comes as a stuffed plush, while Woola is a sweet, baby lamb that comes as an unstuffed dog toy with a squeaker and crinkly legs for extra play time fun!
Whether your pup favors stuffed or unstuffed dog toys, they're sure to find a comforting friend in Moony the teddy bear and Woola the lamb.
Anxiety Relief
Moony and Woola are the perfect team to provide your dog with comfort, stress relief and entertainment, whether they need snuggles during storms, a reassuring friend at the vet, or some company while you're away.
For Gentle Chewers
Our team designed this toy specifically for soft, light, gentle chewers and cuddlers. No toy is indestructible, so please always supervise your pet while they're playing with plush dog toys. 
Our Moony and Woola toy is recommended for dogs of all sizes - but not recommended for tough chewers.
A LITTLE STORY BEHIND✨
Moony and Woola are the best kind of BFF's.
From binge watching their favorite shows to snapping selfies together, they never leave each other's side. But this duo is looking to become a trio and your fluffy friend would fit right in. Whether your pup is looking for some snuggles during storms or some company while you're away, Moony and Woola are up for the job.
playtime and adventure is out there
Up, up and away!
Cuddly companions Moony and Woola are up for anything: lazy afternoons, weekend road trips, lively parties, quiet nights. Whatever kind of pal your pup is looking for, Moony and Woola are the perfect choice. They're friendly, fun and loyal as can be.